Originally published in Lawson Guru Newsletter, February, 2008.
Lawson's Absence Management (LP) allows organizations to do a superior job of reporting on employee leaves of absence compared to its predecessor, Time Accrual. This article shows you how to set up a Family Medical Leave Act (FMLA) plan in LP. There may be other ways to do this, but I have found this way to be very effective in tracking employee leaves.
Set up LP Plan
Note here how the plan is not set to auto-enroll: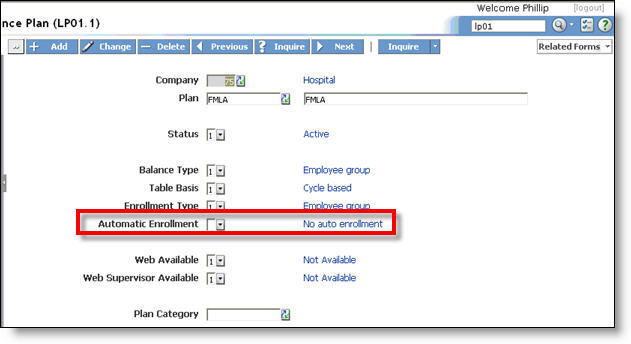 Create Employee Group
While anyone can be eligible for a plan, organizations typically should do a personnel action on PA52.1 to move the employee into a leave status (as well as populate intermittent leave and leave start date user fields). Using a group in this fashion makes identifying employees on leave much easier.
Add Service Rule
The service rule determines when the employee service date is calculated. While other plans such as sick or vacation might use hire or adjusted hire date, the date that an employee goes out on FMLA could occur multiple times during an employee's tenure. As such, we will use a user field and ensure that that field is tied to the personnel action on PA50.

Now that we have added the user field, we can tie it to the service rule.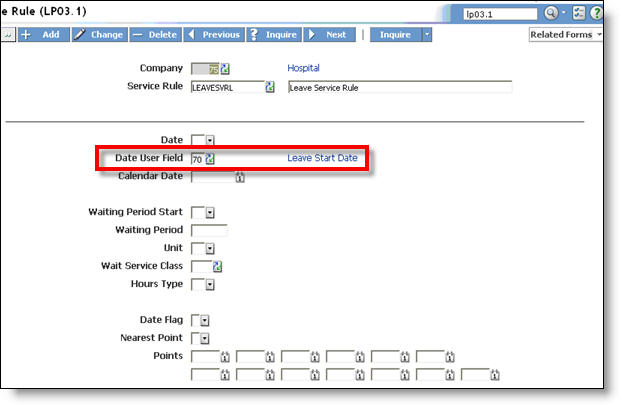 Add Accrual Rule
We need to allot the employees 480 hours of time once s/he enters the plan for full-time employees. Let's start by adding the calculation for 480 hours of job protection. Note that this calculation is tied to FTE; an employee with 0.5 FTE would receive 240 hours of leave: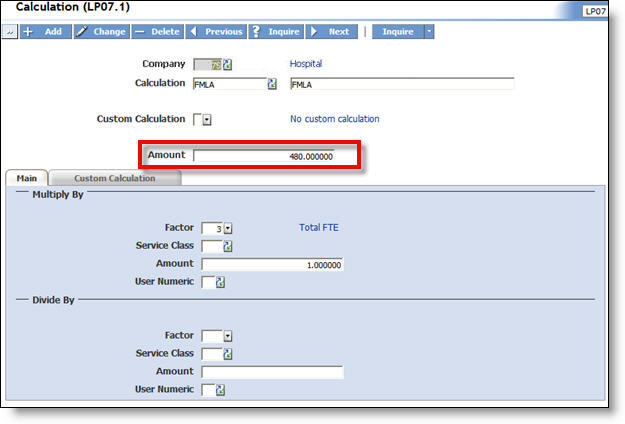 Next, add a cycle based allotment table, and tie the allotment table to the calculation.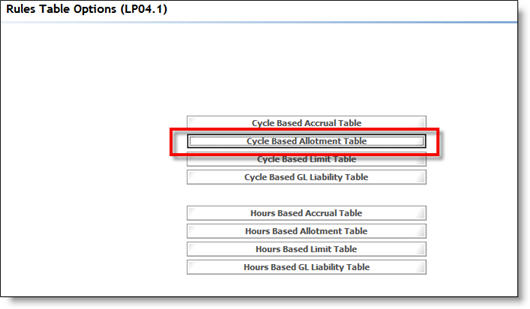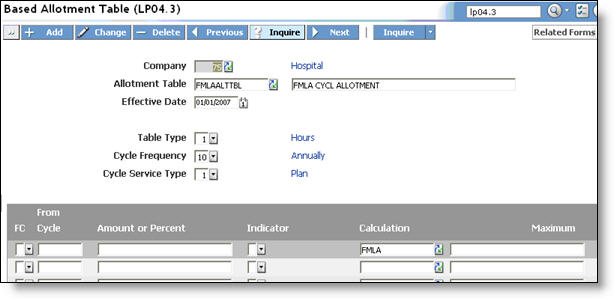 Then add the Accrual Rule, tying it to the Allotment Table: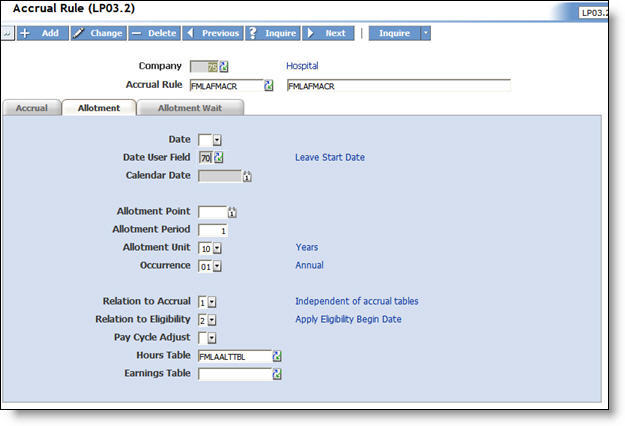 Add Eligibility Rule
Some organizations allow employees to take FMLA leave immediately without checking eligibility. Note that this is very different than determining employee eligibility via the LP51 and the LP251!
In English, these parameters just mean that employees enrolled in the plan can take their time immediately.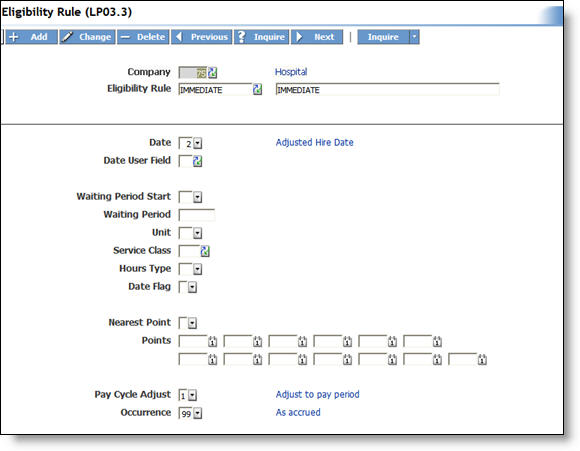 Add Limit Rule
Now, we don't want employees to take more than 480 hours (12 weeks X 40 hours/week) in a given year. As such, let's set up the limit table on LP04.4. The problem with using an FTE-based calculation here is that employee FTE values may change during the year and it's simpler to just use the 480 number.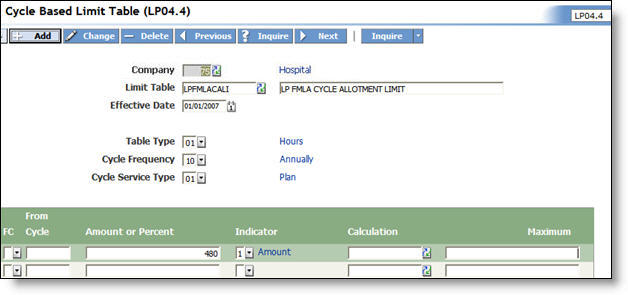 We tie this table to the limit rule. Now, we are ready to add the Limit Rule.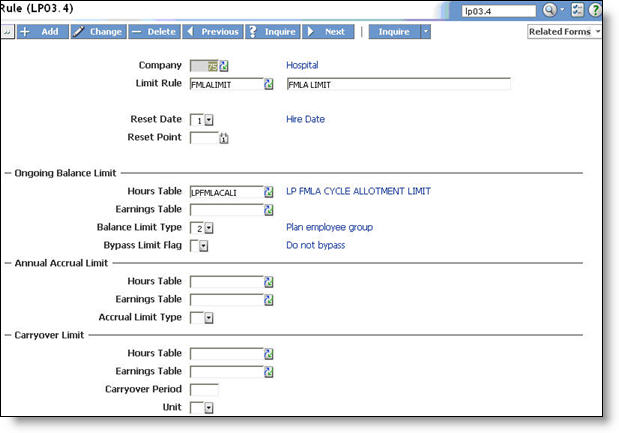 Add Payroll Rule
Note that LP gives clients much more flexibility for printing employee LP balances relative to its predecessor, Time Accrual. Note that you have to use the PMTOUT file via the PR160 for balances to appear on pay checks. This may be a change for some clients who used the PR160.prt output in TA.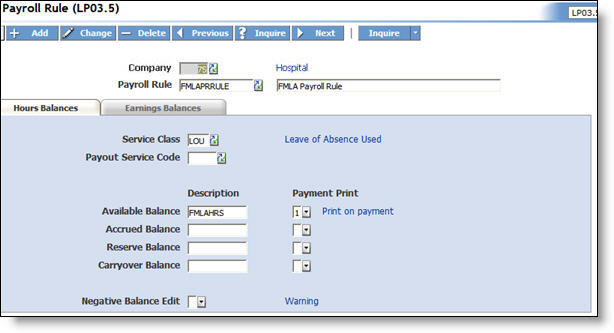 Also note that it's best not to set the negative balance edit to 'error', as the LP140 can be processed for manuals and events only (option #4) to save time. If the employee time records are not in the system, then LP140 won't pick them up (unless you add them separately via LP53, in my view an unnecessary step). I recommend letting employees go negative here and then creating a simple Crystal, Access, or MS Add-in report for auditing purposes. You don't want employees taking more than 480 hours of LOA time.
One final note: Make sure to have your service class and code relationships defined for proper tracking of service history:

Add Structure
Having added your rules separately, you're now ready to add your Plan Structure!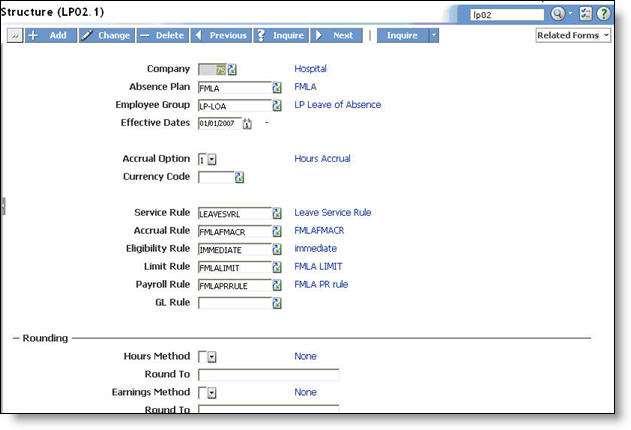 Conclusion and Summary
Compared to Time Accrual (TA), Absence Management (LP) does a superior job of tracking employee leaves of absence. It also gives Lawson clients a compelling reason to upgrade to Lawson 9.0 Applications. If the carrot isn't enough of an incentive, then consider the stick. Lawson has announced the decommission of the TA module, effective June 1, 2009 (since moved). By following these steps, you can ensure accurate tracking of employee FMLA balances in Absence Management.