Collaboration in the Post-COVID World
NEVER WASTE A GOOD CRISIS.
—WINSTON CHURCHILL
In this timely talk based upon my book Reimagining Collaboration, I explain the massive communication and collaboration opportunity that COVID-19 presents to organizations—if they're willing to embrace new tools and a new mind-set.
When it comes to remote work, Covid-19 didn't change anything; it only accelerated changes that were already taking place.
When offices closed and people started wearing masks, relatively few organizations were able to continue without significant interruption. Indeed, Basecamp and Automattic were the exceptions that proved the rule. Most were wholly unprepared for the massive changes that they had to face:
They relied upon email for internal "collaboration"
They continued to rely upon legacy business processes and mind-sets
They hadn't built up a remote-first muscle memory
Most still haven't—and that's a big deal. The future of work will be a hybrid one.
What Attendees Will Learn
In this talk, I provide the context to understand the problem. After setting the table, I'll offer meaningful solutions about how organizations can turn this crisis into the massive opportunity that it is. Specifically, by embracing the Hub-Spoke Model of Collaboration, they can realize a number of benefits:
The future of work will be a hybrid one.
How to make employees vastly more productive.
How to unleash the power of their software in a way that they currently cannot.
How to create powerful knowledge repositories.
How to existing business processes.
How to build the foundation for future machine-learning and AI enhancements.
And more.
Watch Yourself
Note that I'll be giving this talk remotely for the time being for the foreseeable future—using the very tools that I describe in the book.
Feedback
Phil's webinar on Reimagining Collaboration contributed to my professional and/or personal growth: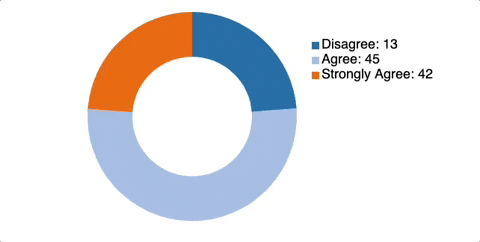 Source: CMU Connect, June 17, 2021
Like what you've read so far? Great. Click on the red button below, fill out the form, and we're on our way.